While no one was looking, Microsoft assembled a surprisingly large library of major business and productivity apps for iOS and Android. Here are the best ones for partners.
Microsoft has quietly amassed an impressive array of high-quality business apps for the two major smartphone platforms.
To provide a current snapshot of what's available, RCP scoured the Apple App Store for business and productivity apps from Microsoft (we could have done the same for Android in the Google Play store). The goal was to fill a smartphone screen (see below) with Microsoft apps that a partner could use as part of a customer solution.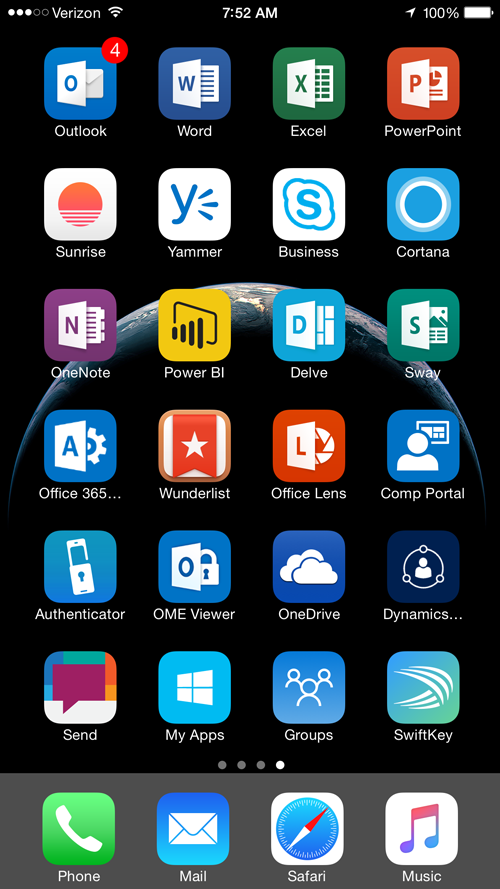 An iPhone 6 Plus screen wasn't big enough to fit them all. You'll notice the screen doesn't contain any fluff. There's no "Kinectimals" game, no "Wordament" time killer, no "Halo" or Xbox apps — not even a Bing search app. This list is pure business.
What follows are details about each of the apps in the above screenshot, going left to right and top to bottom, plus two apps we couldn't fit on the screen.
Outlook


Outlook on the desktop is the keystone of daily productivity for hundreds of millions of users worldwide. The way Microsoft chose to ultimately take Outlook to iPhone and Android phones speaks volumes about the company as it exists today. Rather than port its Windows Phone app, Microsoft acquired Accompli, one of the best existing e-mail apps on the market, and slapped the Outlook logo on it. It marked an admirable absence of pride and a willingness to use its deep pockets to buy the best available technology to fill holes in the portfolio.
Word, Excel and PowerPoint


The next three apps are the heavy hitters of the Office suite. Making Word, Excel and PowerPoint available to iOS and Android users was one of the signature early moves of the Satya Nadella era. Users have responded enthusiastically with 340 million downloads of Office apps on iOS and Android.
Sunrise

Sunrise is another app by acquisition. It's a free calendar app with an attractive interface that is designed to connect with Exchange, Google Calendar, iCloud, Facebook, Evernote, Foursquare, TripIt, Todoist and Trello. A custom keyboard called Meet allows users to schedule meetings from any messaging app.
Yammer


Microsoft's enterprise social network offering is an obvious fit for an app. Microsoft has been incentivizing partners lately to light up Yammer workloads in the cloud, and this app is a way to make the solution stickier for end users. There are actually two options — the Yammer app for access to features like Inbox and Home Feed, and Yammer Now, a lightweight version for simply messaging colleagues.
Skype for Business


Microsoft has been creating Lync apps for other platforms for years, and gradually packing more and more of the unified communication functionality into them. The Lync 2010 app is still available in the App Store. Lync 2013 was rebranded as Skype for Business along with the productwide rebrand. This is different from Microsoft's consumer-focused Skype app, which has been downloaded a whopping 900 million times.
Cortana


Watch your back, Siri — there's another personal productivity assistant setting up her desk right by yours on iOS. Cortana is Microsoft's assistant, and the core technology and UI of Cortana is a strategic asset for Microsoft. Functionality on iOS at this point is limited in this new app, but Cortana distinguishes herself by unifying data and context from a Windows 10 desktop and an iPhone.
OneNote


Microsoft's core note-taking app was one of the first Office applications available on non-Microsoft mobile devices. It's still free, and still a viable alternative to Evernote, Paper and other similar apps.
Power BI


Another Office-related workload with recent consumption incentives is Power BI. There's an app for that, as well. Power BI is designed to provide live mobile access to business data. Through the app, users can see dashboards and reports, share information and receive data alerts.
Delve


The full name of this app is Office Delve for Office 365. A 2015 addition to the Microsoft catalog, Delve begins to take advantage of the network effects of company employees to surface information that they may not have known they needed to know. At its core, Delve is for discovering documents that co-workers are working on (and that they haven't flagged as private).
Sway


This next-generation Office app isn't fully baked, to read the user reviews, but the idea is interesting. Think of it as multimedia PowerPoint for presentations from mobile devices. It's designed to make presentations mixing text, images and video easy to create, with formatting determined by the app depending on the device that audience members use to view it.
Office 365 Admin


This app does what its name says — it extends the ability to administer Office 365 to a mobile device. Using this app, credentialed administrators can connect to the Office 365 admin center, manage users, reset passwords, assign product licenses, manage notifications, contact Microsoft support and read system messages. And then there's this gem from the official app description: "Microsoft Partners can manage their Office 365 customers."
Wunderlist


This acquisition completes a triplet of buys where Microsoft took the core Outlook functionality it has been delivering for decades and bought third-party apps to deliver them to mobile users. Accompli does e-mail, Sunrise does calendar and this one, Wunderlist, does to-do lists and tasks.
Office Lens


Meeting around the physical office whiteboard is great for brainstorming. When the ideas are worth saving, someone needs to write them down. For as long as feature phones have had serviceable cameras, people have been capturing whiteboard scribbles as pictures. Office Lens is an app that takes the next step by using text recognition to convert text on a whiteboard into editable Word or PowerPoint files. The app also works on documents. Depending on the handwriting of the person at the whiteboard and the vagaries of text-recognition algorithms, your mileage will vary.
Comp Portal


A benefit of a company subscription to Microsoft Intune is the use of the Comp Portal app, full name the Microsoft Intune Company Portal. The app allows credentialed users to browse and install company apps, view and manage enrolled devices, view IT department contact information, change their own work account passwords, and remotely wipe their devices.
Authenticator


The Microsoft Azure Authenticator allows companies to turn a mobile device into a trusted device and provide single sign-on to company applications. The app allows multifactor authentication, and it's possible to add accounts by scanning QR codes.
OME Viewer


Another security and privacy app in the Microsoft catalog is OME Viewer. OME stands for Office 365 Message Encryption. The viewer app allows users to view and reply to encrypted messages from Office 365 in the phone. To use the app, users open the encrypted message in an e-mail app, tap and hold the attachment and select Open in OME Viewer. Introduced in December 2014, Microsoft expanded the app to support dozens of languages last June.
OneDrive


One of the core apps that unifies Microsoft's cloud and mobile ambitions, OneDrive is one of dozens of cloud storage apps for mobile devices. What chiefly differentiates OneDrive is its deep integration with all of the other Microsoft productivity apps.
Dynamics


The Dynamics CRM for phones app is Microsoft's app for users of Dynamics CRM 2016 or Dynamics CRM Online 2015 Update 1. The app allows users to access activities, accounts and contacts and enter information. It also includes the ability to track progress for KPIs with charts, and an ability to personalize key information by pinning tiles, Windows Phone-style, to the app's homepage. The Dynamics CRM app is one of several Dynamics apps; Microsoft also has apps for older versions of CRM and for Dynamics NAV and Dynamics AX.
Send


A relatively new app from Microsoft Garage, the tagline for Microsoft Send for Office 365 is "feels like texting, works like e-mail." Users sign in to Office 365 and then send text-like messages with no subject lines, salutations or signatures to e-mail contacts. The Send app only shows messages started from Send, but they also go to the user's Outlook inbox, making it possible to pick up a Send conversation later via e-mail from a desktop.
My Apps


This is a single sign-on app for any of the thousands of supported cloud applications that an organization chooses to provide for users. The app requires an organizational sign-in and is for organizations using Azure Active Directory.
Groups


The Outlook Groups app is another Office 365 enhancer designed to encourage and enhance team-based communication. Aside from group e-mail conversations, Outlook Groups can also work together on a shared OneNote notebook, view and co-author Office documents, and "like" messages.
SwiftKey


An innovative keyboard application, SwiftKey Keyboard is Microsoft's most recent mobile app acquisition. The keyboard replaces the device's built-in keyboard and adapts to the user's typing style. It will be interesting to see how Microsoft integrates SwiftKey with its own innovative keyboard technologies.
PowerApps (Not Pictured)
An interesting new addition, called PowerApps, is designed to allow business users to create their own apps, linking data from different apps into workflows to automate redundant daily tasks. Think of it as macros for the cloud and mobile world. The iPhone version requires iOS 9.0 or later.
RD Client (Not Pictured)
Updated to version 8.1.17 in February, Microsoft's venerable Remote Desktop app allows a mobile device to connect to a remote computer running Windows Professional or Windows Server.